Welcome!
… in the 3-star Hotel Vicinity, the not-so-ordinary hotel with conference centre on the environmental campus in Birkenfeld.
We are looking forward to conferences, hikers, cyclists, bus passengers and of course all guests of the University of Applied Sciences Trier, environmental campus Birkenfeld. 45 single and double rooms, our campus restaurant Culinaria and all other facilities await you.
We look forward to your visit and look after every guest as if they were a good friend.
Reservations
You can make reservations either online via our homepage, by email or by phone at +49 6782 – 172806.
Our staff will be happy to accept your reservation by phone on Mondays – Fridays from 06:00 a.m. – 06:00 p.m..
On weekends, public holidays and after 06:00 p.m.  you can leave us a message on the answering machine, we will get in touch with you as soon as possible.
Check-in after 6 p.m. is possible via our key safe.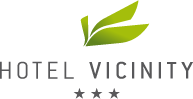 Building 9928
Neubrücker Straße
D-55768 Hoppstädten-Weiersbach
Fon +49 67 82 17 28 06
Fax +49 67 82 17 28 88